grain store
Stockpiling experience.
The piles of wood shavings have continued growing, and the hour(less)glass has made me further consider how they can serve as a log of the time, process and materiality involved in the bobbin production. Further supported by a need to store the wood shavings in a safe, fire-proof way, starting a grain store seemed an ideal solution.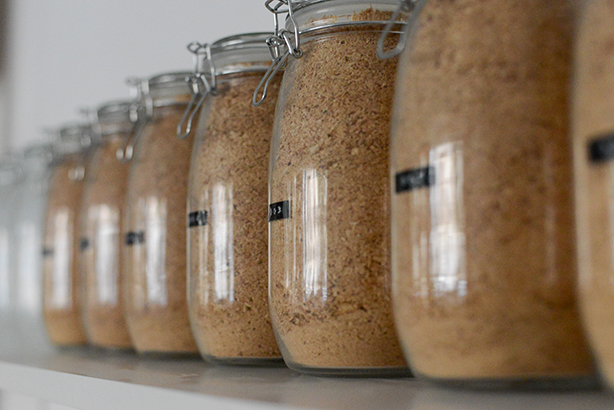 why a grain store?
Throwing away the generated wood shavings has never been an option; there is too much experience and knowledged involved in their production to render them worthless. As the bobbins increase in number, my skills with the lathe, handling of the tools and my understanding of the cherry wood have all grown, and I can see the results in the long, smooth wood curls that fall off as I carve.
I want the wood shavings to serve as a form of storage of this growth, so creating a grain store seems a logical way to do this. The shavings are slowly parceled into grain jars, packed in, labelled and shelved. The expanding library is a physical reminder of the bobbin process, and as it grows I can feel myself surrounded and supported by it, knowing I have rich store of carving knowledge that I can draw on when needed.
I'm already thinking of how I can tap into the grain store. At the end of today, I made a withdrawl from one of the jars so I could soak the wood shavings to make paper with. Further reasonings and thoughts on this later…